however I propose a bit different way, instead of just posting list mention a bit about said games (maybe a rating, youtube link or screenshot as well) so we at least know the type of game. Also mention if it runs well on the pandora
I dont know much about other platforms so please create threads about those if you do
So I'll start out for the MSX a system I love
-
Knightmare
A vertical scrolling shooter that deals with a knight, its a pretty challenging game there is a vast array of enemies and the music is especially hypnotizing. As a child I used to have a version with 99 lives and I find the original with 3 lives very! challenging.
-
Eggerland
A puzzle game in where you have to get to a door and cross specific challenges. It also has an editor to make your own puzzles. There is a code based system to remember where you are (no save games in this era).
-
Kingsvalley
Collect all gems in a pyramid and don't get eaten by the mummies. When all gems are collected the exit (or entrance) will appear find your way through the valley of kings. This game has a very nice mixture between speed, reflexes and puzzles.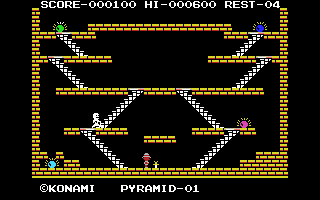 -
metal gear
Yes the metal gear the original was a MSX game. This is in my knowledge the first stealth game around, its pretty tough though.
All these games run very well on the pandora
(however I have to find a manual for solid snake since I dont know all the key combination by hart)

Basically there are a lot of great konami games on the msx, remember this is pre-NES

On the GP32x forums there were some recommendation threads for specific systems. It would be nice to have these list here also for us newbies